Truth or Dare, a Real Fun Party Game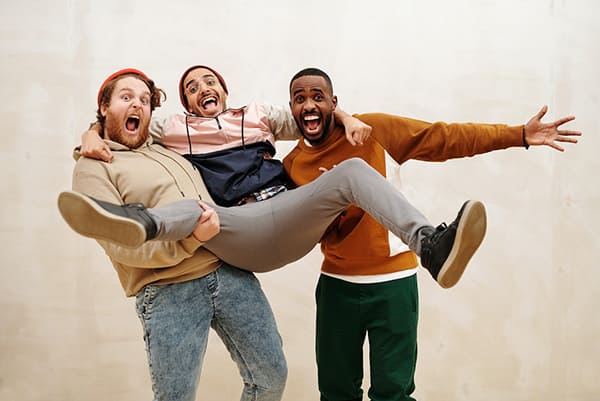 Truth or dare is a fascinating way of getting juicy information about your best friends, perhaps more than you ever imagined. No heavy exercise or complicated arrangements are required, but at least two or a group of friends.... This is an exciting way to reveal dark secrets in comfortable surroundings. Because friends are ready to reveal their secrets without pressure under the truth challenges. If they refuse to accept truth challenges, daring challenges are there to keep them entertained.
How to PlayAll players have to sit in a circle. Each player can either answer the question honestly or perform a dare. It is common for a penalty to be imposed when the selected person does not answer the question or complete the dare.
Players prepare two stacks of truth and dare questions, folded over onto slips of paper. Starting from the one end, a player has to decide whether he wants to choose to answer the truth question or whether he wants to perform a dare. After making mind, he will pick a paper either from the truth or dare stacks. Suppose this player chooses a truth challenge from the truth piles; he will pass the chit to his right-hand friend. This friend read aloud what was written on this paper. Now the friend who picked the chit has to answer the question truthfully. It does not matter how embarrassing the question might be; when someone chooses the truth, they must say it honestly. If the player is not ready to perform that true challenge, he has to go and pick the chit from the second pile, which is the stacks of dare challenge slips. However, the secondary dare must be completed. In cases where they are overwhelmed by both challenges and refuse to accept one, a penalty should be imposed. Such as getting kicked out of the game or giving a special treat to their friends.
PrecautionsAny actions taken during the game should not be revealed to anyone who is not a participant. This is the strict game rule. Keep the craziness of the dares within a reasonable range. Keep the game fun by asking questions that could embarrass the contestant. By making sure the dares don't land anyone in trouble! So as not to hurt any friends' feelings, the difficulty levels for the Truth or Dare challenge should be carefully chosen. Penalties and punishments should be moderately severe so that all of your friends will comply. The difficulty should be set to crawl slowly rather than dynamically.
Questions for Truth
All the friends in the room are boating in the deep sea. The boat begins to sink all of a sudden. You only need to remove one person from the boat to save the lives of others. Who will this person be?
When was the last time you went on Facebook to look up your crush's or ex's profile?
Name the hottest girl in your class.
Tell us about your two wildest desires.
What has someone said to you that has hurt you the most?
Have you ever pretended to be ill to avoid going to school? Mention that excuse.
Have you ever secretly admired someone much older than you?
Have you ever secretly admired a girl or boy who is several years younger than you?
How long have you gone without a bath?
Which is the most embarrassing text you ever sent to the wrong person?
Have you ever stolen something from a classmate's school bag?
The thing you did to attract your crush's attention was absolutely crazy.
What about your crush (or girlfriend, boyfriend) appeals to you the most, and what appeals to you the least?
Your most childish act is?
What is the biggest lie you told your parents?
Describe the most humiliating time you were caught in the act of telling a white lie.
Have you ever stolen an item from a shop? Describe the moment.
Have you stolen money from your home?
Which of your wildest desires would you fulfill if you became invisible?
Can you recall a time when you blamed someone else for your fart?
Dares
Go to the outside of your neighbour's home, ring the doorbell and run away.
Jump around like a frog for one minute.
Tell all of your friends about the benefits of a product and persuade them to buy it.
Sound like a horse.
Feel the pain of ice burning in your armpit for one minute.
"Peter Piper picked a peck of pickled peppers. A peck of pickled peppers Peter Piper picked.If Peter Piper picked a peck of pickled peppers. Where's the peck of pickled peppers Peter Piper picked?" memories this tongue twister within five minutes.
Cry out loud at the top of your lungs.
Give an impression of another player until someone can figure out the long movie title name., for example, "The Lord of the Rings: The Return of the King".
Let your tongue lick the lemon until it is totally squeezed.
Make a video instantly and share it on Facebook.
Sing a complete song.
Act like the opposite sex.
Cry like a dog.
Make a funny face, take a picture, and update your Whatsapp status.
Without using your hand, drink a glass of water.
For one minute, let out a loud laugh.
Act like a lunatic.
Imagine a pole and dance with it.
Make a sarcastic comment on the top recent Facebook friend's story.
Do not laugh for two minutes when all of your friends are tackling to make you laugh.
Perform a snake dance
Also read:
Great Ways to Spend Spare Time with Friends